Skip to Main Content
It looks like you're using Internet Explorer 11 or older. This website works best with modern browsers such as the latest versions of Chrome, Firefox, Safari, and Edge. If you continue with this browser, you may see unexpected results.
Contact Info (Mita)
3 Libraries on Mita Campus
Mita Media Center consists of 3 libraries; Keio University Library, Old Library and South Building Library.
Most of the books in Western languages are located in the Old Library which is a Gothic style architecture near the East Gate of the campus.
Most of the journals in Western languages are located on the 4th floor of Keio University Library, or the main library, which is a large, beige-tiled building near the center of the campus.
The South Building is a glass-walled building at the corner of the campus. There is a law/politics library on the basements 2 through 4. The collections of the library include books and journals both in Japanese and Western languages.
Location of the Libraries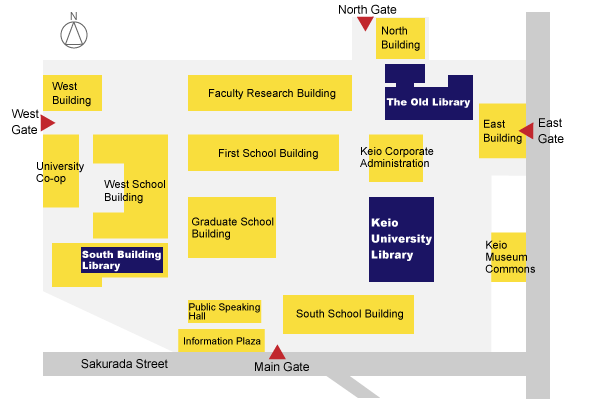 Library Facilities
Below are the frequently used facilities:
​​​​​​Main Counter: For borrowing and returning. Renew your loan periods via web.
ILL Counter: For photocopy/book delivery requests
Reference Counter: For assistance in using library services and resources
Photocopy Machines: Intended for photocopying library materials only; do not photocopy your personal belongings such as notebooks.
Computers, Printers, Networks and WiFi: You need an account to use Keio University's computers/printers/networks. You also need WiFi settings if you use your laptop or other digital devices on campus. Reach out to Information Technology Center before getting started.
Group Work and Meeting Spaces: Available on the 1st and 4th floors
Frequently Accessed Websites and Webpages
Mita Media Center Website

The website features the libraries on Mita Campus exclusively. If your home campus is Mita, the website is must-see.

Online Forms

We welcome your requests and inquiries. This webpage is the roundup of the online forms we offer. Choose one that fits your purpose.

Mita Information Technology Center

Mita ITC is in charge of the university computers and networks. They also issue accounts to the students and faculty members of Keio University. Ask them for a help when you start using computers and networks on Mita Campus.